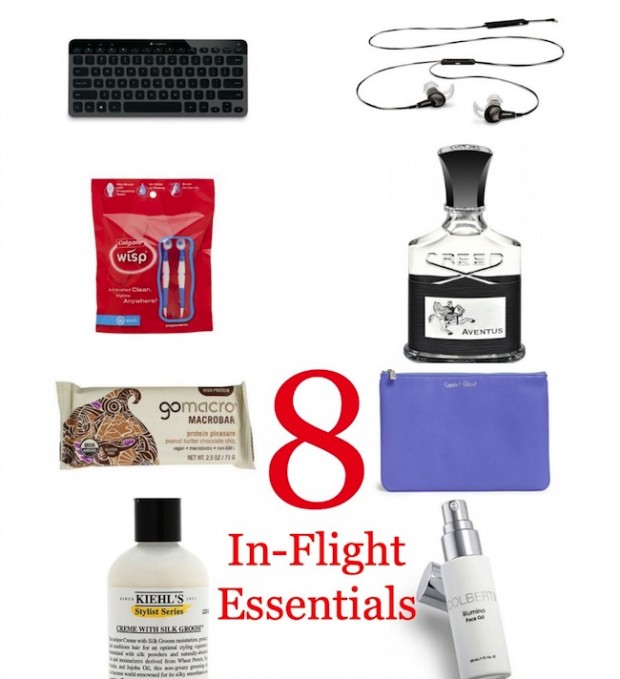 Can't leave for a trip without these travel must-haves!
1. Logitech Bluetooth Keyboard: I recently purchased one of these keyboards because I was tired of lugging my laptop around. It's amazing! The design is super sleek and light and it also acts as a cover for your iPad. Double duty!
2. Bose QuietComfort Acoustic Noise Cancelling Headphones: I like to tune everything out when I am on the airplane and these Bose Headphones do the trick whether I am listening to music or watching a movie.
3. Colgate Wisps: Before landing I like to use a wisp to make sure I have fresh breath. These things are so handy. I have them available at all times.
4. Aventus by Creed: Everyone asks me what scent I am wearing. Women love this scent. Guys love this scent. It's fresh and masculine without being too musky.
5. Go Macro Bars: I am gluten free, so eating on the airplane can be a little tricky. I always keep these Go Macro bars in my bag because they are nutritious, healthy and delicious. My favorite is the peanut butter chocolate chip. Soooo good!
6. Zippered Pouches: I pack my carry on bag with zipper pouches that hold my electronic supplies (charges, cords, earphones), toiletries, medicine, etc. so everything is organized and I can find whatever I need very easily. It's also fun to collect different ones. I love Rebecca Minkoff Lissa pouches in bright colors.
7. Kiehls Creme with Silk Groom: Now that I have longer hair, I have to tame the beast a bit, so I comb a small amount of this through my hair when it is wet to make control the amount of frizz and curls.
8. Dr. Colbert Illumino Face Oil: With the amount of traveling I do, my skin gets really dry. I count on Dr Colbert's Illumino Face oil to keep my skin hydrated and glowing.